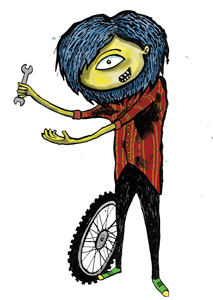 Announcements:
WELCOME BACK! Cyclab will open for the new semester on Sunday October 2nd! 
**WE WILL BE CLOSED THE WEEK OF OCT 31 FOR UNIVERSITY FALL BREAK.
WE WILL REOPEN TUESDAY NOVEMBER 8TH! SORRY FOR THE INCONVENIENCE FOLKS 🙂
HOURS THIS SEMESTER: 
TUESDAY 7:30-10:30PM
THURSDAY 5-8PM
SUNDAY 2-5PM 
Cyclab thrives through our volunteers, and we always welcome volunteer bike mechanics new and old. No bike repair or biking experience is necessary—we can teach you as we go. If you are interested, please let us know in the Contact Us section, and we'd be happy to chat in more detail.
Updated: 10/6/16
The Cyclab is Princeton University's very own bicycle cooperative. This means:
1. You bring in your bike.
2. You will be paired with a mechanic, and we will fix your bike together.
All repairs, tools, and parts are free.
We want everyone to have access to the tools, space, and knowledge necessary for bicycle maintenance. The Cyclab is staffed by student and community volunteer mechanics. We don't rent or sell bikes, but we will always help you repair what you bring to the shop! Whether you're an expert or have never before held a wrench, this place is for you! 
In addition, the Cyclab aims to serve as a forum for the promotion of eco-conscious modes of transportation, exercise, and fun. We host bike-related events, including workshops, classes, and group rides. In short, the Cyclab is Princeton's hub for all things bicycle!